Complete Attendee Management for Seminars
Create amazing online event experiences including event registration, travel and accommodation bookings, and live engagement tools.
SimplyOrg Event Management Software
Important tasks often arise while executing an online seminar, the biggest one being finding the right participants. SimplyOrg makes this easy for you by providing a list of potential participants for your new seminar based on the interests of former seminar participants. With our seminar management solution, you can advertise your seminars in your CI, on your own homepage, send invitation emails with integrated tracking, and market your seminars (thanks to integrated interfaces) on social media portals including Facebook, Twitter, Xing, or LinkedIn.
With SimplyOrg event management software, you can seamlessly manage the bookings and contact details of your participants. Additionally, your participants will continue to receive updates and documents about the seminar by email and via the integrated participant portal. Lastly, you can also automate billing-related tasks through simplyOrg for all your external participants.
Event Management During the Seminar
SimplyOrg software supports you with efficient participant communication amidst your ongoing seminar. Automatically send out important updates and information such as room changes or essential documents. Our participant management software also covers tasks of creating name tags, participant lists, and more. Furthermore, speakers can also check the participation ratio and manage documents for the seminar in simplyOrg's easy-to-use online portal.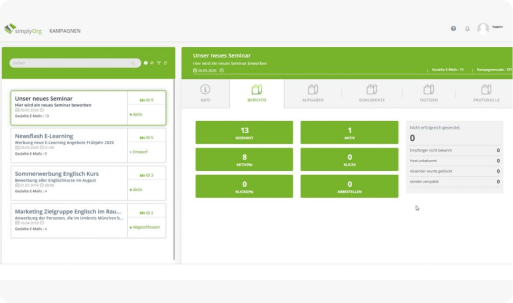 Event Management after the Seminar
Once your seminar has ended, simplyOrg attendee management software supports you by automatically creating and sending invoices to your participants/companies. Our software also takes into account any applicable discounts that can be configured based on your specific target groups. In addition, simplyOrg also helps you create certificates for your attendance, use online questionnaires to obtain feedback from participants, and create reports for optimizing your seminar offerings.
Seminar Management Is Just the Beginning
Attendee management is just a small part of what SimplyOrg makes possible for your online seminars. Using our solution, you can not only manage the participant data of your seminars, but also manage the planning, implementation, and follow-up related tasks of your seminars digitally and automatically from start to finish. By spending less time, reducing the expenditure of resources, lowering chances of error, and maximizing event success, simplyOrg offers you the complete event management solution for all your events.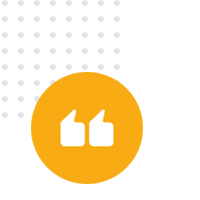 Erfahrungsberichte
unserer Kunden
Download Brochure
Find out in a compact and clear way how you can make your work easier when organizing events